Before I went on holiday I didn't bother packing craft stuff (like I usually do) cos I haven't crafted for ages and didn't think I'd want to do any.
HOW WRONG I WAS!
While I was on holiday I got the desperate urge to sew stuff. I bought one of those mini sewing kits from the caravan site 'local shop of everything' and, while in Swansea for the day (going to all the same shops we have in our town at home) found a cheap pack of felt for 99p in The Works (which we haven't got in our town so always seek out when we are elsewhere).
It had 5 colours of 'felt' (meaning stiffened dishcloth quality rather than soft and flexible craft stuff... but that proved to be an advantage in the making) with 3 sheets of most colours: green, red, dark blue, yellow and pink.
As we had just watched the Lego Movie on DVD the first make was Uniktty for a cooing 18 year old daughter (with some colour exchange as I didn't have the necessary range.
Having looked on Google images now we are back from holiday, I see I shall have to affix some ears. In fact now I'm back I may have to do a complete remake with the benefit of a variety of felt colours and Google images behind me.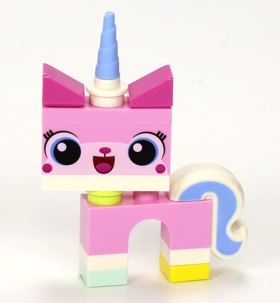 The background is one of the children's multi-coloured surf boards but I thought it deserved a funky place to be.